On Sunday's I post pictures of my food on Facebook and Instagram. Things like my fully loaded fridge, recipes, or a dish. This week I kept getting asked to post my prep like I used to and since I took a few pictures I thought, "What a good idea!" If you girls want to see me blog more about food prep all you have to do is like these blogs and make comments about what you like, would like to learn, and questions you may have. I'm happy to some videos or anything that will help.
I find the BEST time to do food prep is EARLY Sunday. The boys are sleeping, the coffee is hot, and I can turn on some Joel Osteen or catch up on the news. Plus, I can get the food almost done right in time to cook breakfast for us. Whenever you do prep is FINE though. That's just what I enjoy doing and everything here took me about 2.5 hours from start to finish including loading the dishwasher!
Planning
Friday is my planning time. I like going into the weekend knowing I am set up for a great week rather than focusing on all the crap I can do until it's time to hit the "reset button" on Monday. Most people can undo a ton of healthy eating and hard work from 5pm Friday night until 3pm Sunday evening.
Take me for example, I'm in maintenance. I just finished training for a 4-day 48.6 mile race. As someone told me, "how the heck are you not a size 2 by now?" Well, I eat healthy all week and on the weekends I like to have wine and maybe one treat. THAT puts me in maintenance. Most of you want to be LOSING. That means you need to take your weekends seriously.
I make my menu and I keep it simple. I come up with a couple of ideas for breakfast. Because I run my business from home I don't normally cook my breakfast ahead because it can be done in 2-3 minutes. YOU CAN make it ahead, though. You can make ahead shakes, hard boiled eggs, breakfast sandwiches, protein muffins, etc. This week I did make my breakfast ahead and it's great!
My Menu This Week:
Breakfast: Egg Scramble with Fruit
Lunch: Beef Rice with Roasted Vegetables
Dinner: Blue Cheese Salad with Hot Chicken and a Sweet Potato
Pre-Dinner: 30 min. before Veggie Smoothie
Bed-time Snack: Chocolate Shakeology made like a Frosty with Pumpkin Seeds mixed in AFTER blending
Afternoon Snack: Cottage Cheese with Nuts, Sweet Cinnamon Chic Peas, or Tomato/Cucumber/Cheese Ezekial Bread Sandwich
I also have some avocado to use with breakfast I can top with goat cheese if I don't want fruit (Logan likes this with dinner, too), rice cakes and peanut butter, and baby carrots, guac, etc. We keep plenty of vegetables cut up to throw together with our dinners and snacks.
To start, I microwave my sweet potatoes and keep in the fridge. I enjoy them cold. You can bake them if you like and they will be a bit more "sugary" tasting but I like mine cold and I eat like an apple…peel and all. I cut up the vegetables, bag those, wash the fruits and put those in a bowl, and portion any nuts or nut butters we have into containers so EVERYONE knows what a portion size looks like. Plus it makes grabbing on the way out the door easy for me. If Logan needs a snack I can say go grab what you want out of the snack drawer.
KEY TIP! I do the above while vegetables are roasting and rice is cooking. I get that stuff going first, then I move to the "chopping and washing" station filled with bags, knives, and a cutting board. This way anytime I'm just waiting on something to cook I can keep busy!
Kale, Egg and Turkey Sausage Scramble
I took some BABY kale because it's not as bitter as regular kale and sauteed in olive oil until wilted. I set that aside and then browned five turkey sausages removed from the casing. Once the turkey sausage was browned, I put 10 whole eggs into the pan and scrambled with the sausage. As the eggs neared finishing I tossed the kale in and mixed together until done. I salted it, added some pepper, and touch of cajun seasoning then portioned into six containers with 1/2 cup of cooked rice. This will be a great breakfast to have since I tend to workout EARLIER in the day. Some days I run first thing in the morning and most days I lift weights around 1:30pm. Good fats, protein and carbs for my day! I can also add some fruit with this or drink a veggie and fruit smoothie!
Veggie and Fruit Smoothies
Y'all know I drink Shakeology every day before bed as my dessert but since it's cold and flu season I've decided to add in a bonus nutritional shake of my own making. This is a perfect way to boost the veggie content of a meal (since this is not a meal replacement blend without the fats and protein) or something to drink about 30-60 minutes before a meal so you aren't starved when you eat. I blended five shakes in my Vitamix; one for each day of the week. This isn't a juice and I don't own a juicer. The Vitamix truly is the best thing I've ever bought for the kitchen because it will tear up a bunch of vegetables.
This is what I blended with a little water: baby kale, baby carrots, spinach, parsley, 1/2 banana, 1/2 cup of blueberries, celery, cucumber, small bit of ginger and I added a couple of drops of vanilla extract. I put the blend in shaker cups and will just shake really good before drinking. If you need to make it a meal you could easily blend some vanilla, strawberry or greenberry Shakeology with this.
Beef, Rice, and Roasted Veggies
This is going to be my post-workout meal. I like to plan something after workouts that have carbs in them. This week I'm having lean browned ground beef (about 4-5 oz) over 1 cup of cooked white rice salted with Himalayan Sea Salt, and 1-1.5 cups of roasted mixed vegetables. You can buy any blend of frozen vegetables you like. I get a big bag from Costco that has an Asian flare to it.
Brown your meat and cook your rice. Roast your vegetables by lining a pan with aluminum foil, misting with olive oil, and pouring frozen vegetables all over it. I sprinkle a lot of Cajun Seasoning over the top of the vegetables but it doesn't give them a lot of heat. Heat the oven to 400F and cook for about 40 min. stirring around one time. Be careful of steam when you open the oven! I just cook mine until they are pretty done and browning on top. I love them and they keep for a week.
Hot Chicken and Blue Cheese Salad
To make my hot chicken I take chicken thighs without skin and place in a crockpot. You can use breast but I find thighs stay more moist and have a ton of flavor for 20 more calories! Then, I cover the chicken with Franks Hot Sauce (or you can use any lower calorie type wing sauce) and cook on low for 4-6 hours. Be sure if you don't like a lot of heat that you put some greek yogurt in it to cut the spice.
The Blue Cheese salad is super easy and I don't make it ahead. You could do a Mason Jar Salad with it but I eat these for dinner and make fresh. Using bagged cabbage slaw, I dump a good amount into a large bowl. If I have extra spinach or baby kale from the week I'll also throw some of that in with pre-diced red onion, diced celery and blue cheese crumbles (about 2 tbsp.). I toss with a little dressing of choice. I like to use spicy mustard sometimes as a dressing! Top that salad with the hot chicken thighs and toss.
Cinnamon Roasted Chick Peas
I used this recipe and it was SOOO GOOD! After making the chic peas (I trippled the recipe), I portioned them into 1/2 cup servings and bagged them. Logan and I both have enjoyed them.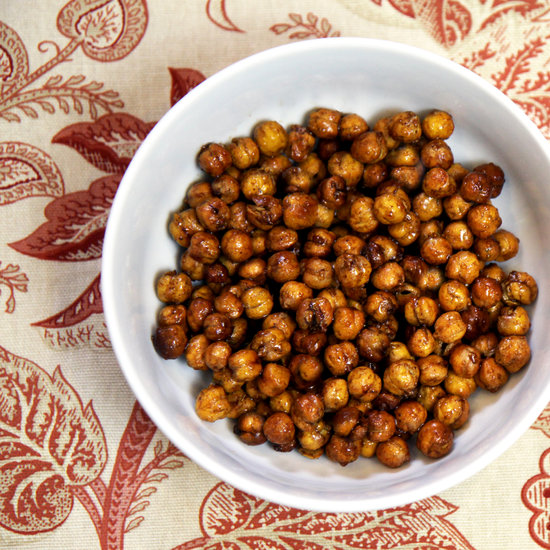 The remaining things I prepped to make MY WEEK EASIER are:
1. A big batch of gluten free pasta with meat sauce. Chris eats it for dinner and Logan enjoys it for lunches.
2. Gluten Free Flax and Chia Seed Blueberry Muffins for Logan's breakfast and I throw either some bacon or fruit with that.
As you can see we all eat a different dinner every night but because it's all done it's FAST to the TABLE. I can beat any drive-thru! We all eat what we like but we eat together. Logan rotates between eggs, bacon and fruit, a GF pizza once a week, a sweet potato and beans of choice with fruit, a mixed green salad with two eggs, sunflower seeds, parm cheese, and fruit, and he loves Lentil Soup. soI keep some GF Organic canned soup for those nights. I pair that with some GF toast he dips in Italian Oil.
That was food prep this week. Let me know if you have questions or comments. The more comments and likes the easier it is for me to know what you girls like reading.