I'm such a habitual eater. Week after week my whole family can eat the same meals and not one time complain or get bored. This is an area I have to stretch myself. It's not because I will fall into temptation if I don't have uniqueness; it's more that nutritionally I know I need to eat some different things so I can live a long time! Nothing I eat is "bad" but I realize there are times I'm not taking advantage of all the good things out there in the world to try.
So this week right after I posted my usual menu I came across two recipes and thought what the hell. Let's make these this week and see how it goes. I had one of each yesterday and both are a hit. Tonight the boys are trying the broc-slaw enchilada bake and I bet they like it!
Corinne's Veggie Enchilada Casserole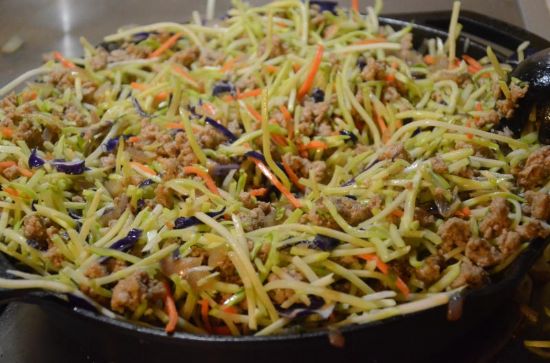 I revised a recipe I got last week from Skinny Mom which is an Enchilada Egg Noodle Bake. I honestly don't eat pasta (not worth it to me in calories but I have NOTHING against it) so thought how can I Queenie-ize this one. This is my recipe and I included her link if you want noodles and a different flare. Honestly, I took out several things but you'll see.
2-bags of Broccoli Slaw Mix
1 tbsp of EVOO
1lb of ground turkey (not lean)
1/2 cup of shredded cheese
1-10 oz can of enchilada sauce
1 diced green pepper (they were on sale)
1/2 diced white onion
2 tbsp of plain greek yogurt
1 tbsp of chili powder
1 tsp of cumin
1 tsp of smoked paprika (optional I just like it)
1 tsp of smoked chipolte seasoning (optional)
1 tbsp of minced garlic
Saute the broc slaw mix in the EVOO with the onions. Set aside. Brown your ground turkey. In a separate bowl while turkey is browning, mix together all spices, cheese, enchilada sauce, and yogurt. Pour on top of slaw mix and mix. After turkey browns, mix into your mixture. Put into a non-stick sprayed casserole dish and bake for 15 min. on 350. You can top with the cheese if you prefer but I like mine mixed in.
This made six generous portions. I divided evenly but it looks to be about 2 cups.
Nutritional Info
Servings Per Recipe: 6
Amount Per Serving
Calories: 217.8
Total Fat: 10.3 g
Cholesterol: 60.0 mg
Sodium: 501.1 mg
Total Carbs: 11.9 g
Dietary Fiber: 4.9 g
Protein: 21.0 g
The next thing I made was pretty easy and tastes awesome. I used the recipe as is.
Southwestern Stuffed Acorn Squash
Ingredients
2 acorn squash (approximately 1 lb each)
1 lb lean ground beef
1 medium onion (½ cup), chopped
¾ cup black beans, drained + rinsed
1 red bell pepper, diced
1 Tbsp chili powder
2 tsp ground cumin
½ tsp salt
½ tsp black pepper
Optional Toppings (It's so good I didn't need any of this.):
reduced-fat Mexican shredded cheese
tomato
reduced-fat sour cream
salsa
cilantro, chopped
green onion, chopped
*Optional ingredients are not included in nutrition calculations.
Instructions
Preheat oven to 400 degrees.
Halve the squash lengthwise. Scoop out and discard seeds (or save seeds and roast them).
In a large bowl, add beef, onion, black beans, bell pepper and spices. Use your clean hands to gently but thoroughly combine ingredients.
Pack 1/4 of the beef mixture (about 1/2 cup) into each squash half center. Place squash in a baking dish (either a roasting pan or 9×13 inch casserole dish).
Add 1 inch of water, cover with foil and bake for 1 hour, or until squash is tender and the center of the squash registers 160 degrees.
To serve: Top with your favorite garnishes (not included in nutrition calculations) and dig in!
Nutrition Information
Per Serving (1/2 stuffed squash):
Calories: 278
Fat: 5g
Carbohydrates: 32g
Fiber: 11g
Protein: 28g
Sugars: 5g
Sodium: 455mg
Vitamin A: 0%
Vitamin C: 37%
Calcium: 3%
Iron: 19%